Recently viewed tickets
Public
Installing Microix WCF Service
The Microix WCF service is a SOAP based service that is deployed on Microsoft IIS Server 2012 or higher and servers two purposes:
It allows our barcode devices to communicate in real time over a WIFI LAN connection or a WAN connection if the service is accessible through the fire wall over the WAN ( http://microix.info/helpdesk/KB/View/20788-connecting-barcode-device-to-wifi-and-wcf-service )

It allows our time clock hardware to send its data over the WAN from a remote site to your on premise or cloud installed Microix/MIP server ( http://microix.info/helpdesk/KB/View/7237-how-to-install-microix-timeclock-manager-mbit--on-premise-and-offsitehosting )

1. Before installing, verify the WCF Services are activated on .NET 4.5 or higher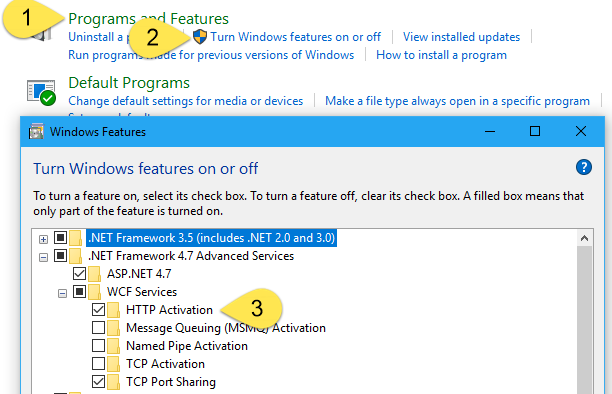 2. Install Microix WCF service (
http://www.microix.info/download/cd/Wcfsetup.zip
)and accept all defaults. When asked to enter your SQL server information, enter the SQL Server name along with your Microix database name
3. After the installation is completed, test the connection by following the steps shown in the screen shot below. If you are able to see the web page shown in step 5 then most likely the service was installed successfully.