Recently viewed tickets
Public
How to Setup and Capture Mileage on a Timesheet
How to Setup & Use a fixed Mileage Rate in Microix
Microix timesheets allows users to enter and pay (tax free), at a fixed amount mileage rate, multiplied by number of miles entered. For example, the current IRS rate, or other self-determined amount, can be entered, and the amount will be paid, in the employees' pay check, for an amount of traveled miles.
Step 1 – Set up Earning Code In MIP
In MIP, set up / add a new Earning Code "Mileage Rate". In the Expense Account, enter the appropriate GL account for this type expense. Also, uncheck both "Track Labor Hours" and "Contribute to Net Pay Only" boxes.

Select "Fixed Hourly Amount", and enter the appropriate rate, as shown below.
Ensure that all taxes, in the "Taxes" tab are unchecked.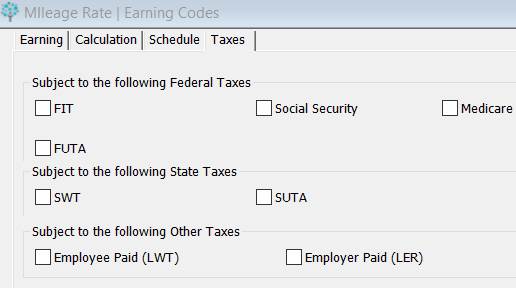 Step 2 – In Microix - Configure Employee Default Values
In Microix, go to Timesheet> Setup>Employee Default Values, and highlight the employees you wish to configure for this feature. Under the Expense ID column, select "Mileage Rate", and save.

This completes the setup of the Mileage feature.
How to Use / Key a Timesheet for Mileage in Microix
Key in Timesheet hours, as usual. Select / click on the "Expenses/Other" Tab.
If time punch data, is utilized, the Supervisor that processes / converts the time punch data into a timesheet, will follow these instructions.
Enter the data, per instructions below.

1 – Click on the green "add" button to insert a data entry line.
2 – Click on the Pay Type column, and select "Mileage", from dropdown boxes.
3 – Click on the Pay Code column, and select "Mileage Rate", from dropdown boxes.
4 – Enter the beginning Odometer reading.
5 – Enter the ending Odometer reading.
6 – Notice how the system will calculate the total mileage (Ending – Beginning).
7 – Notice in the Comments/Purpose section, the 'calculated' amount is displayed.
This amount will flow into your timesheet in MIP. The GL account defined in the Earning Code will be charged, as well as the Distribution Code on the timesheet.