How to use the barcode scanner to complete receiving
How to use the barcode scanner to complete a packing slip
Before you begin, make sure you have
associated barcodes with the items
to be received. You will utilize the Microix Barcode software and your barcode scanning hardware to complete the task. After you are finished with your task, you can refer to article
10845
for information on importing the sheet to Microix.
1. Navigate to Inventory > Warehouse > Receiving
2. Select an existing document ready to be received. If no items are listed here, you may need to first complete (and have approved) a new requisition.
3. Print the print worksheet with the print button located in the bottom right corner.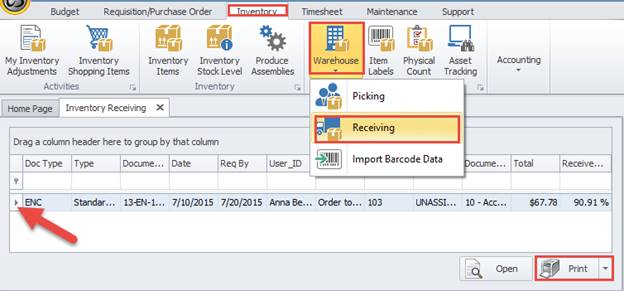 4. Now, with the printed document and barcode scanner in hand, head to the receiving location.
5. Power on the device and launch Microix Barcode 2.1
6. Select Receiving inside the barcode scanning software.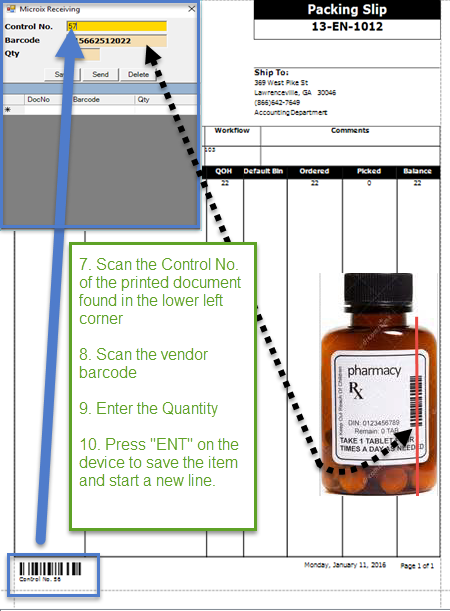 11. Click Save to save this packing slip to the device's my documents folder where it will stand ready for import. Alternatively, if you are using WCF services, you may click Send to upload to Microix. For more information regarding 'Send' function, see article cited in step 12.
12. Review article
10845
for information on how to import the device's data into Microix.